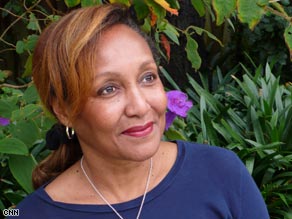 Two years ago, while I was doing internet research on using a nanny to care for our child, I heard about Maria De Silva being one of the CNN Heros of 2008. Maria is a native of Malawi South Africa but was working as a nanny in California when she began to send money back to her home in order to build a school for children who were orphaned by parents who had died from AIDS. The school is called the Jacaranda School.
I read her heros story and was immediately touched. Then, I went to the Jacaranda School website and found out how MUCH a small donation would purchase for a child's education in Malawi. Just as an example:
$10 feeds an orphan for a month
$20 sends an orphan to school for a month
$50 is the price of a school desk (sits 2 students)
$90 is the monthly salary of a school teacher in Malawi
EDUCATION=POWER
That was when I made my first donation. Why am I blogging about this two years later? The Jacaranda School is always in the periphery of my mind and coming up on the Thanksgiving holiday, I have decided to make another donation and PAY IT FORWARD. The Lord has blessed my family and I so graciously this year (as always) that it is my desire to continue to bless someone else.
There is so much more to the story that I didn't add in this post that I encourage you to go to the links and learn more about Maria De Silva and the Jacaranda School. It is worth reading. Maybe you will be inspired to make a donation.  If you do not make a donation to this foundation, please consider finding one that can be a family tradition to PAY IT FORWARD for all of your blessings.