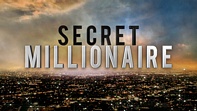 I was recently asked to review and share my thoughts about the new ABC show "Secret Millionaire" with my readers. Previous to being asked to do this, I had seen a little bit about the show's first millionaire Dani Johnson on the Oprah Winfrey Show. My first impression from that show was just mediocre. Mind you, I did not watch the whole Oprah episode, but nothing fabulous stood out for me.
Now that I have had access to watch the full episode of the first Secret Millionare show, I can say that this show offers a number of wonderful things for its watchers and society. The key things that stood out for me were:
1. The show gives a face to the reality of poverty in America. Yes, poverty does exist in America and sometimes it is only a block or two away from where you live. We, as Americans, cannot turn a blind eye to what is really going on in our country.
2. Even though poverty exists, those affected by it still have joy in their lives. Just because things are "bad" for the moment, does not mean that life cannot be enjoyed and that blessings are still being received. I loved the fact that many of the people who went to the community kitchen were there with a smile on their face. It was a place were everybody was the same….with no judgements.
3. America is FULL of generous people who give of themselves without recognition. The first episode shows at least three different organizations where the volunteers give because they know there is a need and they don't look for anything in return. The pure joy of giving is recognition enough.
4. Sometimes having LESS is MORE! Again, I reiterate that having less does not mean that life is any less. If your spirit and faith are strong, then anything is possible.
5. The secret millionaire seems amazed at the tenacity of Americans living in poverty and those willing to help out. The volunteers who were there to help those in need were not millionaires themselves, but they were rich in generosity. Nothing can bring more joy to your life than GIVING!
The show Secret Millionaire is what television needs today. Many of the shows on television now lack quality content, a learning aspect, and most importantly..a take home message that can change your life and the lives of others. I do recommend watching Secret Millionaire which premieres Sunday, March 6th on ABC.