I recently was introduced to a great website called Art.com which has the most stunning artwork for children's rooms.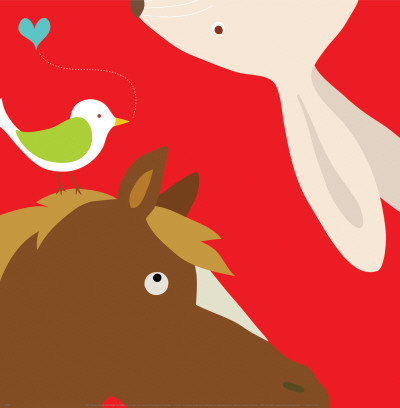 Rabbit and Horse by Yuko Lau…Art.com
This piece above is from the artist Yuko Lau and you can view many of her pieces at Art.com. What I love about Yuko Lau's inspiration for her work is that she strives to make the paintings more than just beautiful, she wants to inspire kids.
Yuko Lau says "I'm thrilled to offer my colorful 'Peek-A-Boo' collection exclusively on Art for Kids. The collection was inspired by my daughter and I am thrilled to be sharing it with other parents," said featured artist Yuko Lau. "As a parent, I know how important it is to create visually stimulating and creatively enriching environments for our kids. Art.com's new showcase for children's art makes it easy for parents and educators to find art that can encourage the imagination and spur creativity."
You can also see and hear from Yuko Lau herself  at  the video link below describing how her Peek-A-Boo collection came to be. It is really cute and inspiring!
I cannot wait to order some of this artwork for my son's room.