I had the amazing opportunity to interview
Kathy Freston
, a New York Times best selling author with a concentration on healthy living and conscious eating, about her new book "The Lean".  Freston promotes a body/mind/spirit approach to health and happiness that includes a concentration on healthy diet, emotional introspection, spiritual practice, and loving relationships, among other tenets. Her work is focused on providing guidance for conscious and healthy living in our increasingly busy world. Freston continually cites the proven value of "leaning into" change and the benefits of "progress, not perfection."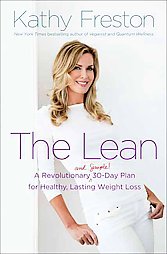 See my interview questions for Kathy and her answers below:
Kathy Sykes:
 Hi Kathy! I am Kathy Sykes, a working mom and blogger at
www.wifemotherfirstlady.com
. I blog about living an authentic life through grace and faith. I am also a pharmacist and regularly post about healthy living.
I am excited to get the opportunity to ask you a few questions about your new book "The Lean" and being able to share them with my readers via my blog, Facebook and Twitter.
Kathy Freston: Hi Kathy!  So wonderful what you are doing with your blog…. I love the intersection of grace and health; they really are so connected.  Bravo you!  Ok, here are the answers….THANK YOU for this chat!   XOX
1.     For those of us who are no where near being vegan, how "do-able" will it be to follow the suggestions and tips in your book?
Oh, I'm ALL about progress, not perfection!  This is a plan about "leaning in" to gradual, super easy lifestyle changes – like eating an apple a day, or adding in 2 Tbs flax seed a day, for instance – that will give you a big bang for the buck in terms of weight loss and getting healthy.  Anyone can do these little steps, and they create a really nice momentum so that a shift comes gently. 
2.     I am totally supportive of the fact that taking care of your body is in total alignment with one's spiritual life. I believe that our bodies are temples of God and we should treat them with the utmost respect. What is your take on the correlation between your mind, body, and spirit?
I'm with you on that!  I think we are asked to grow into our highest and best potential, to challenge ourselves to move past the little addictions and attachments – whether that means in terms of food or habits or thoughts.  When we make serious efforts to become kinder, more loving, and more healthy, we demonstrate our willingness to rise.  That willingness, I believe, sets us on a path that opens our heart, connects us to all of life, and allows us to be vessels of healing.  So we not only become our best spiritually, but we also get stronger and clearer in our bodies!
3.     "Leaning" into a diet change seems to be the best thing to do to prevent failure. What would you consider your most important suggestion for successful diet change?
I think the most important thing you can do is to focus on progress, and not to worry about perfection.  You can take a small step to begin the process, and then another one, and then another… and before you know it, you are being carried by a momentum!  It's part effort, and part Grace!
4.     How has your "life" changed based on the change in your diet and what results can you "testify" to as being beneficial to working women via your diet and exercise lifestyle? 
Since leaning in to these changes, I feel like I'm "on target", like I'm living up to who I was always meant to be.  There is a lightness I feel in my heart, knowing that I've moved away from eating animals and toward choosing foods that didn't cause any hurt or suffering.  (It's not an all or nothing thing, by the way, it's just about "leeeeaning" into better choices!)  On the health front, I bound out of bed with energy in the morning and go all day long.  My thinking is sharp, and my digestion is excellent.  My skin is clearer than it's ever been, and I haven't had so much as a cold in 8 years.  Best of all, my weight is at its ideal, and I don't even have to try!  
There are other stories in
the book
, about people who have lost 100 and even 200 pounds, and to me, they are the real testimonials and inspirations!
You can find out more about Kathy's healthy living suggestions on OpenSky and she is also exclusively offering signed copies of her book The Lean! OpenSky is a social network for shopping where you connect with experts in health, food, style and design for exclusive information, advice and insider product recommendations.  
I want to thank Kathy for taking the time out to speak with me about her new book and being so kind in the process. I also would like to thank
OpenSky
for the wonderful opportunity to bring my readers new and exciting information.